Burlington was very lucky with tropical storm Irene. When she was a hurricane and the path was uncertain, we didn't know if it was going to come up Lake Champlain and destroy cities along both sides of the water or if it was going to veer out to sea. Ultimately, Burlington received heavy rain for about 24 hours combined with some sustained winds.
The rest of Vermont has devastating flooding. There are covered bridges that have washed away; towns that are under water; roads that no longer exist; and significant damage to farmlands. We expect the rivers to swell over the next day or two, so I suspect the real extent of the damage is unknown at this point. Suffice to say, there will be a lot of people who need a lot of help over the coming days, weeks, and months.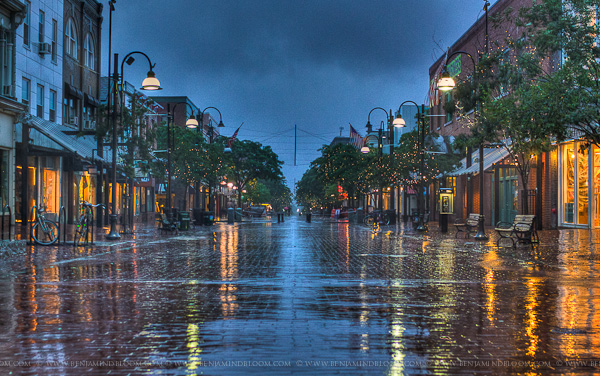 Church St. in Burlington, VT during tropical storm Irene.
The extent of the damage I've seen in Burlington has been limited to a few small & medium sized branches, leaves covering many sidewalks, and a potted plant that fell from a second story porch.