Some days, it's nice to break free from your patterns. Monday and Tuesday night, as I was commuting home from Burlington to Essex, I had amazing views of snow-capped Mt. Mansfield and Camel's Hump. In my rearview mirror, the sun was setting behinds Whiteface, Marcy, and a slew of other peaks in the Adirondak mountains of which I do not know the names. Every day, I've had my camera with me and tried to stop to take a quick shot. This is a common occurrence, and more often than not I'm let down with the results.
Today, instead of going home, I was staying in the city to meet some friends. I had a couple of minutes to kill between finishing things up at my desk and heading to their house for dinner, so I stopped by Perkin's Pier. The sun had mostly set by the time I arrived, but it didn't matter. Sunsets over Lake Champlain rarely disappoint.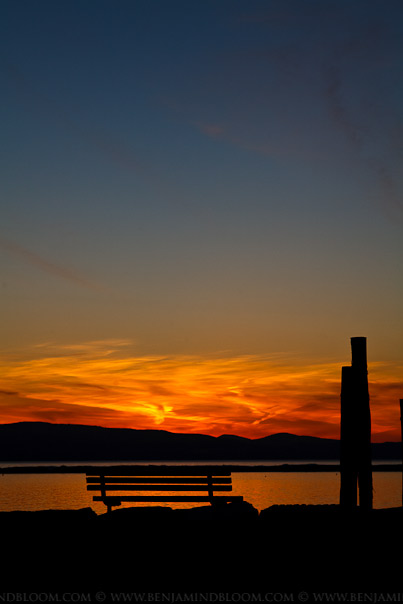 I don't always post one-off shots to my blog, so you may want to check out my Flickr stream, my Facebook page, or my Twitter stream if you're interested in seeing more of the individual shots.