While it's full on puking snow in Burlington, VT, we're out in Utah. It's snowed a bit over the last few days out here, with 16+ a few days ago and a few fresh inches on top, so Solitude skied wonderfully yesterday. It's not the 30″ that I see reported in Vermont, but we'll take it.
Tawny and I met up with Jorden, Pete, and Brian giving us one snowboarder, one telemarker, and three alpine skiers. Brian was also skiing with a camera, so we've got a couple extra photos.
The day began by heading up, and then up, and then up to get to Honeycomb Canyon. We were going to traverse out the high line skiers left right off the lift, but it wasn't possible on a snowboard. The traverse was more of a horizontal sidestep that fought gravity the whole way across. So down we went, finding a few inches of fresh snow on top of skier packed perfection. It wasn't deep, but the turns were delightful. About half way down we passed through a gate and traversed through to a gully that had deeper snow and nice turns, but a long runout to get back to the lift that would bring us back to civilization.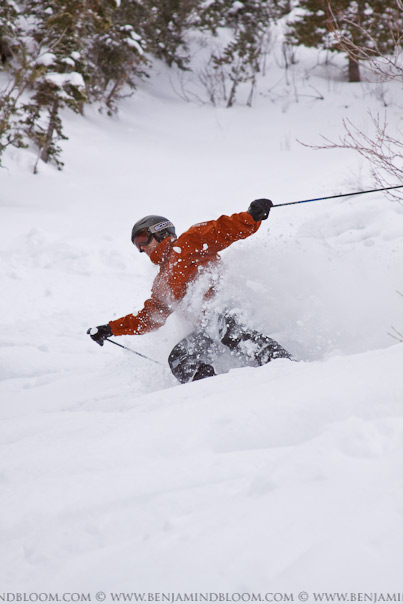 Opting to save our energy, we stayed on the front side for a few runs, finding pockets of untracked snow 2-4″ deep in the trees. Weaving around on the mid-mountain lifts, we had a ball.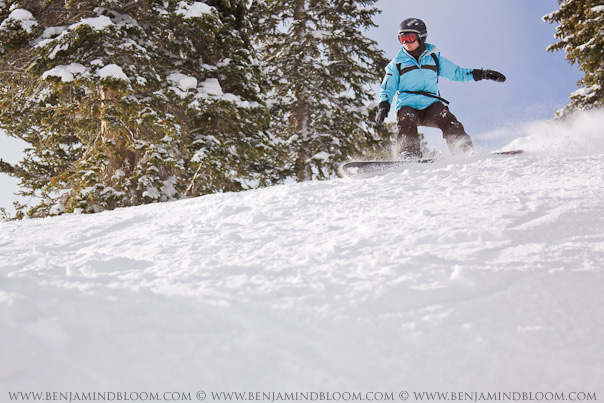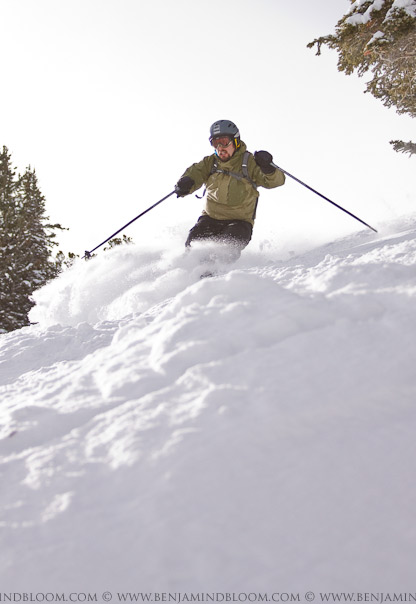 Tawny then decided to take a breather and let the guys take the high traverse into Honeycomb. Off we went, heading left for a ways, but not quite to the second gate. We came down a pitch that had few tracks, and beautiful snow. It was supportive and thick, but somehow still easy to ski. Westerners probably wouldn't call it powder, but I would. It was great! Over the next knoll, into some shrubby trees that had been largely ignored, and into more great snow.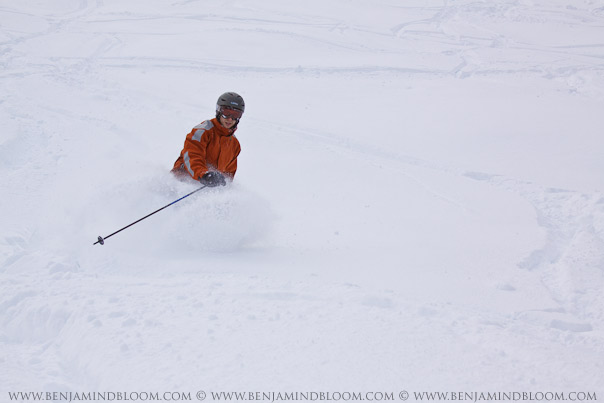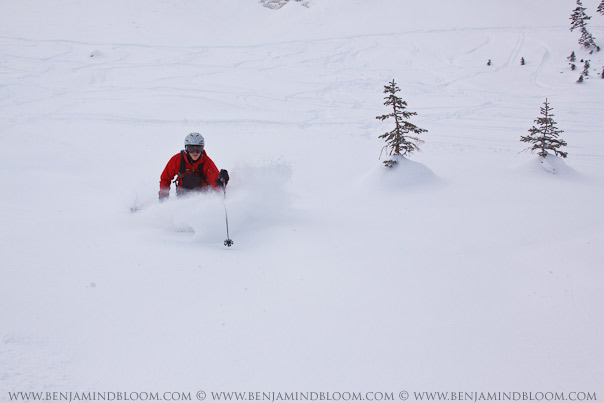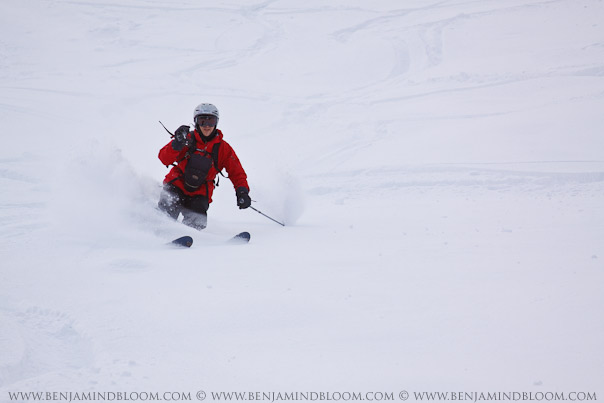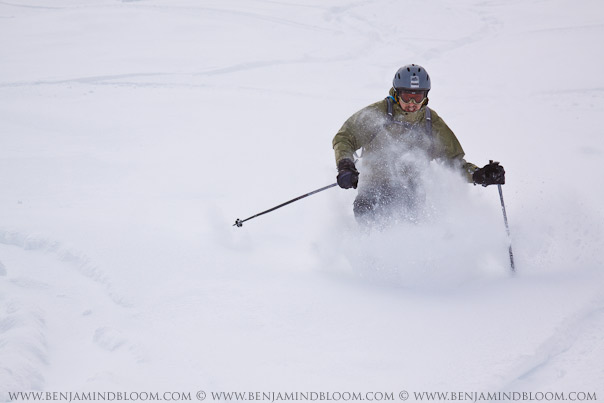 At the same middle gate we hit on our last run out here, we traversed out further. Brian and Pete dropped in where it looked pretty good, but had some rocks lurking beneath the tempting snow. Jorden had a theory that people had started dropping here because the rocks got more prevalent, desiring good skiing before the terrain got worse. He thought that over the next rise we would find a stash of great snow (No experience, just a gut feel..) Follow Jorden's gut. We discovered an open bowl area as opposed to the chutes & gullies we had traversed over. The snow was just like above and lightly tracked, making for a few dozen great turns.
The rest of the day was spent on the front side of the mountain, meandering around from soft snow to soft snow, with some bumps thrown in. Solitude's a great mountain with a feel more like the east coast resorts I'm used to (Smuggs, MRG) The terrain may not be as challenging as Snowbird or Alta, but it's a whole lot of fun and there's a feeling of freedom when you ski a mountain you're not familiar with and don't have to worry as much about what's over the next rise or below the next roll. Snowbird could contain a rocky chute, cliff, or something else; Solitude seems to just have good snow. Sure, there are some spots that you can scare yourself, but you have to try to get there instead of stumbling into them.
Solitude posted some of Brian Kretschmar's photos on their community website / Flickr stream.